Harvard Law School Association of Europe Annual Reunion 2023 held in Luxembourg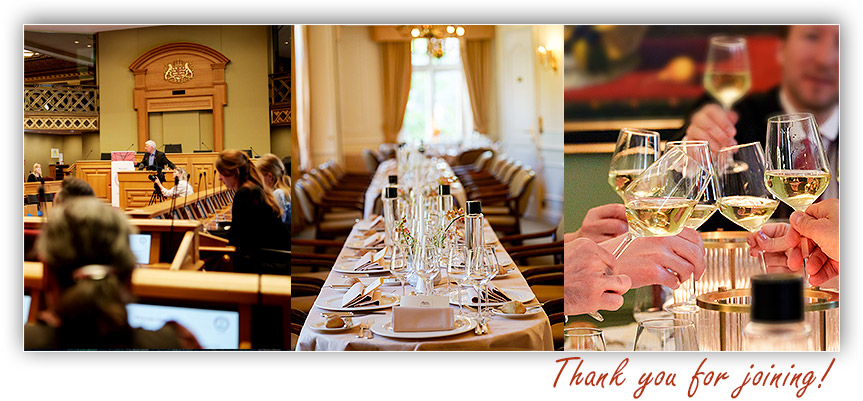 Members and guests of the Harvard Law School Association of Europe (HLSAE) reconvened for a long-awaited annual reunion in Luxembourg on May 18-21, 2023. This longstanding tradition resumed after a four-year hiatus, bringing together over 120 alumni, alumnae, and guests from across Europe and beyond. Attendees had the opportunity to reconnect, network, and explore Luxembourg's rich heritage and attractions.

The Reunion program included addresses by prominent speakers, city tours, and social gatherings. The weekend commenced with a convivial welcome cocktail at Brasserie-Bar Capucins, followed by a guided tour of the Luxembourg City Centre and a visit to Caves Bernard-Massard in Grevenmacher on Friday. The Reunion program also included a visit of the European Court of Justice, an academic session at the Luxembourg Parliament, a walking dinner at the historic ARBED Building, and a gala dinner at Cercle Munster, among others.

The Academic Session at the Luxembourg Parliament featured Luc Frieden LL.M. '88, former Minister of Finance, Defense, and Justice of Luxembourg, as the keynote speaker. Other esteemed speakers at the Reunion were Claude Wiseler, President of the Christian Social People's Party of Luxembourg; Melina Kapeliou LL.M. '10, Head of Division for Audit and Institutional Policy at the European Investment Fund; Luigi Malferrari LL.M. '98, Member of the Legal Service of the European Commission; Stefan Acsinte LL.M. '05, Advisor to the Vice President at the European Investment Bank; Sorina Doroga LL.M. '19, Senior Lecturer and Vice-Dean at the Faculty of Law at Western University of Timișoara and HLSAE Scholarship Recipient; and Francine Vanderstricht LL.M. '72, who received the HLSAE Award.

A distinctive celebration was held in honor of the HLS alumnae at the historic ARBED Building, sponsored by Banque et Caisse d'Épargne de l'État (SPUERKEESS) and the Harvard Law School Association Women's Alliance. An integral part of the Reunion's diverse agenda, this segment showcased the inspiring journeys of accomplished alumnae, notably Françoise Thoma LL.M. '96, CEO of Spuerkeess, and Salomé Cisnal de Ugarte LL.M. '94, Partner at King & Spalding. Cisnal de Ugarte delivered an inspiring address titled "Breaking Barriers - How Harvard Empowers Women in the Legal Profession".

Founded in 1965 in Paris, the HLSAE is a vibrant platform for more than 2,500 Harvard Law School alumni across Europe and beyond. It is committed to advance the cause of legal education and to promote the interests and increase the usefulness of the Harvard Law School, to further the organization of local or regional associations in Europe, and to promote mutual acquaintance and good fellowship among all members of the Association.

.
Event Information

The event has already taken place
Event contact: info@europe.hlsa.org
.
When:
4:00PM Thu 18 May 2023 - 2:00PM Sun 21 May 2023, Europe/Rome timezone

Where:
Luxembourg City ,
12 Bd Royal
Luxembourg, 2449 Luxembourg
[ Get Directions ]