Welcome to the HLSA of Europe
Uniting over 2,000 Harvard Law School alumni and alumnae throughout Europe and beyond, the HLSAE is one of the largest regional HLS alumni associations in the world. Founded in 1965 in Paris, it has created and maintained the tradition of bringing its members together on the occasion of the much anticipated Annual Reunions.
Do not miss the opportunity to participate in our events, meet fellow HLS alumnae and alumni based in Europe, and build new experiences together!
Upcoming Events
Upcoming Events Below
4:00PM Thu 9 May 2024 - 2:00PM Sun 12 May 2024, Europe/Rome timezone

With the colorful memories of the Luxembourg Reunion still vivid in our minds, we are pleased to announce that the next HLSAE Annual Reunion will take place in Prague. Please block 9-12 May 2024 in your calendar and stay tuned for further details!
Stay Connected!
We hope you stay connected by attending our upcoming events below. Interested in more info or looking to get involved? Please email us at info@europe.hlsa.org
Not receiving our emails?
If you should be receiving emails from the HLSA of Europe, but you're not, here are a few steps to take:
Make sure you haven't blocked HLSA emails, and that they're not getting stuck in your spam filter or some secondary Gmail filing structure. (Try adding hlsa@law.harvard.edu and email_watch@omnimagnet.net to your safe sender lists, or adjusting your Gmail filters.)
Check your HLSA profile to make sure your contact information is up to date, and you haven't opted out of receiving communications.
Log into this specific website, using your Harvard Key. Once you log in, you'll be added to our mailing list.
If you haven't yet claimed your HarvardKey or need to reset your HarvardKey, please contact the HLS HarvardKey support line at +1 617-495-5631 or HLS Alumni Records at alumrec@law.harvard.edu.
HLSAE Annual Reunion in Luxembourg, May 2023

Follow our official Social Media Pages!
Expand your network
Join the only official HLS Alumni LinkedIn Network!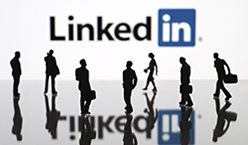 With over 4,300 alumni, Harvard Law School Alumni is the fastest-growing and only official and secure HLS Alumni group on LinkedIn. This group is open to all alumni from HLS degree-granting programs. Join Today!
HarvardKey

HarvardKey is a secure login and password to streamline your access to several online alumni tools and benefits.
Visit

key.harvard.edu

to claim your HarvardKey today.

Need personalized help? Contact the HLS HarvardKey support line at +1 617-495-5631 or

alumrec@law.harvard.edu

.
Amicus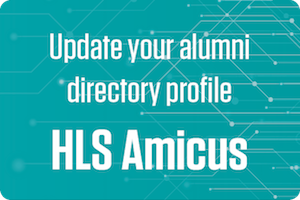 HLS Amicus is a community building tool, featuring an alumni directory, with advanced search and messaging capabilities.
Alumni Feedback
We want to hear from you...
Help us to build a better HLSA of Europe Let us know what you, as HLS Alumni living in Europe would like to see from your local HLSA Chapter. Speaker events, networking reception, casual happy hours? info@europe.hlsa.org